Join us for our 2023 Obon (also called Bon) gatherings to learn traditional Japanese folk dances, celebrate our lives, and offer remembrance all those who have laid the foundations for us to make our lives possible today. All of our Obon events are open to the public!
What is Obon?
Obon is a time when we gather to remember and celebrate the lives of all those who have gone before us who have made our lives possible. The Obon dance is an expression of joy for our lives and the lives of others. The dances range from older, traditional folk dances to modern dances derived from the folk dances. This makes us mindful of the long chain of being from the distant past to our present selves.
2023 Obon Schedule
August 2nd & 3rd
Dance Practice (7:00 – 9:00 PM MST) – Join us in the TSDBT gymnasium to learn and practice traditional Japanese folk dances (Obon Odori) with community members of the Tri-State/Denver Buddhist Temples. As you enter the temple from the main entrance, turn immediately right to enter the gym.
August 5th
Hatsubon Service (3:00 PM MST) – We will be holding our Hatsubon service in the main hall (Hondo) of the temple. As you enter the building, you will be greeted by a temple greeter. Continue left to enter the main hall for service proceedings. We kindly request that you remain quiet during service unless actively participating, this service is in remembrance of those who have passed in the prior year.
Obon Odori (6:00 PM MST) – We welcome everyone to join us in the parking lot of Pacific Mercantile located directly adjacent to the temple to participate in our 2023 Obon dances. If you were not able to make it to the practices on August 2nd and 3rd that's ok! We encourage everyone to participate and celebrate with us.
Location
The Tri-State/Denver Buddhist Temple can be found on the corner of Lawrence and 20th Streets at: 1947 Lawrence St, Denver, CO 80202. Please park in either the lot located to Pacific Mercantile or in the garage off the corner of Larimer and 20th Streets.
Obon Virtual Lantern Dedications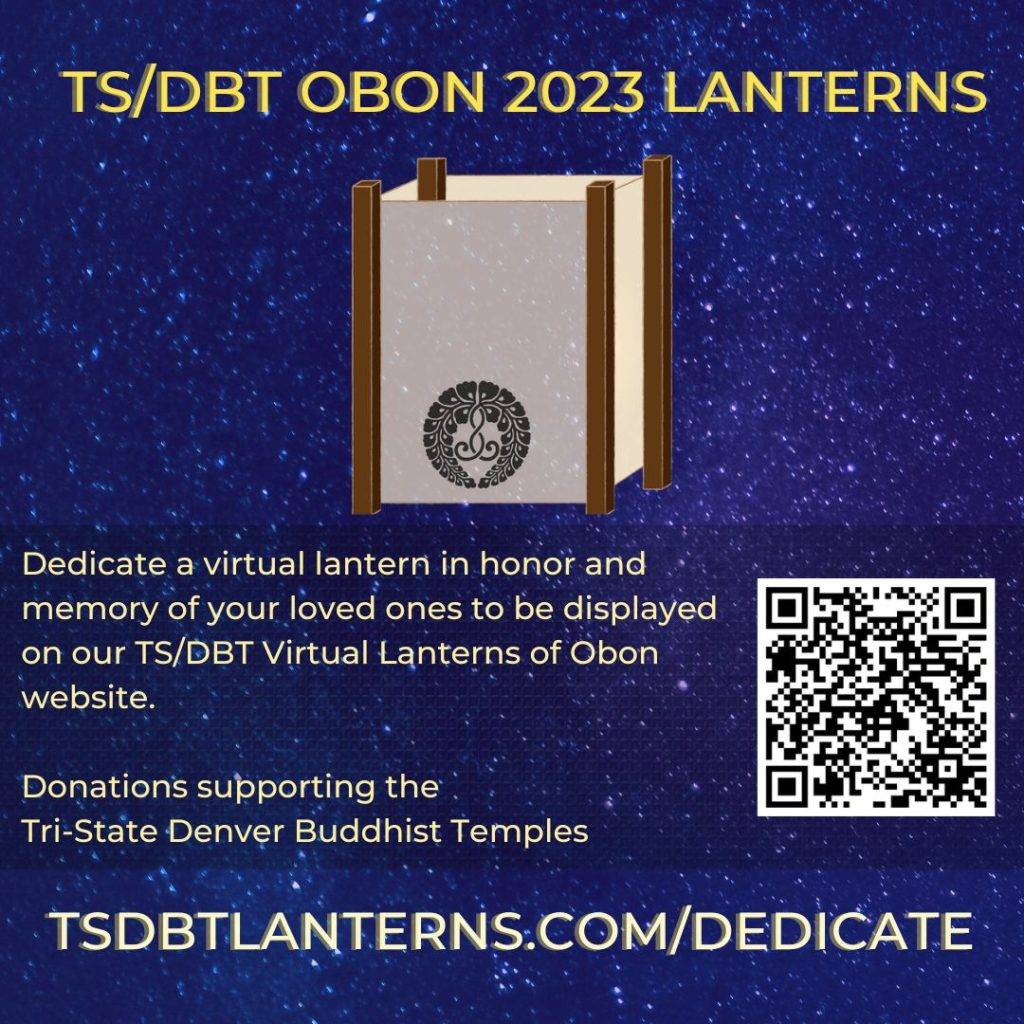 If you wish to dedicate a virtual Obon lantern in memory of a loved one, please click the image above, scan the QR code from your phone, or follow this link to be taken to the dedication page: https://tsdbtlanterns.com/index.html
Other Special Observances
Throughout the year, the Tri-State/Denver Buddhist Temples hold a number of special observances and events. We also welcome you to join us for service every Sunday to become a part of the TSDBT community.